Dissenters and Demonstrators Unwelcome in Dallas — 
Reflecting back on the ceremony by the City of Dallas commemorating the 50th anniversary of the assassination of JFK, which my wife and I attended from beyond the roped off area in Dealey Plaza, I am less offended by the level of ignorance displayed by the public as I am by the level of arrogance displayed by those in whom the public's trust has been placed.
As reported in the UK Guardian newspaper:
"Dallas civic leaders have arranged an hour-long ceremony called The 50th that will set a solemn, dignified and understated tone as we commemorate the life, legacy and leadership of President John F Kennedy,"mayor Mike Rawlings said in a statement. "There will be speeches, hymns, a fly-past and a moment of silence at 12:30pm, the time of the shooting. Attendees have been background-checked by Dallas police. Security will be tight; dissenters* and demonstrators are unwelcome." [emphasis added]
This entire event was designed more as a PR campaign to influence public perception on a global as well as local level, than it was designed to honor the memory of the 35th President of the United States. And besides that, since when has the City of Dallas held any type of ceremony or parade in Dealey Plaza? The last "parade" was allowed 50 years ago on the day JFK was assassinated while riding through Dealey Plaza in a motorcade. Since that time the City of Dallas has not even once commemorated JFK's life and legacy. In my view, such a celebration of life and legacy would not be inappropriate if it was held on any other date and at any other place within the City of Dallas. So what motivation could have led to such an ill-conceived encroachment on Freedom of Speech? In a word: Containment. In two words: Damage Control.
The most significant day in the history of this event, the 50th anniversary of the assassination, was camouflaged as a celebration of life rather than as a day of mourning. It would be similar to visiting Auschwitz or Treblinka on the 50th anniversary of the lethal gassing of their first victims, only to find that the city officials had scheduled a Celebration of Life Ceremony at those death camps all the while denying that there was ever a holocaust!
*According to a recent Gallup Poll the majority of the public has never believed the official story (see graph). This means that the actual "dissenters" are the Warren Commission apologists themselves, which presumably included those who organized the ceremony!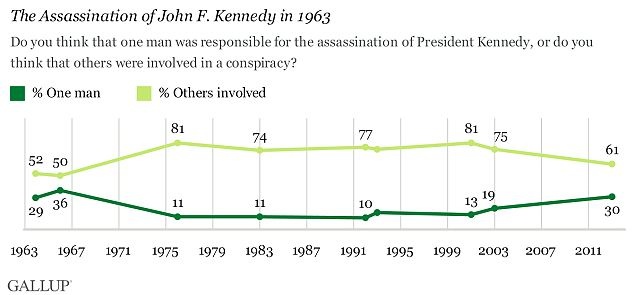 The internets top
autoblogging
application.