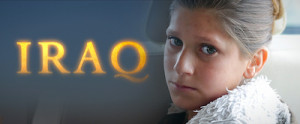 My very good friend, Dave MacIntosh, shot this film last month in Iraq. It is a short documentary by Victor Marx that demonstrates the extreme danger posed–by the group know in the West as ISIS–on the most precious and innocent victims imaginable: small children. These little girls, as young as 5 years old, were taken from their families after their relatives were doused with gasoline and set on fire, repeatedly raped and tortured, only later to then be sold into human trafficking.
The CIA has no business meddling in American Domestic concerns, such as, following instructions on how to discredit critics of the Warren Commission Report. Instead, they–along with members of our most elite Special Ops Teams–need to focus on eradicating from this world any perpetrators belonging to the group known by the name "Daesh" to their Kurdish child victims [aka: ISIS].
As for the rest of us–we should do whatever we can do to support these victims. They need to know that they are not alone and that the world is watching and will not stand idly by as silent witnesses to these atrocities. These victims need shelter, some need counseling, food, recovery, but most of all they need the security of knowing that we will not permit it to continue.
This is not about war. It is not about revenge. It is not about differences in ideology or politics. It is about protecting those who cannot protect themselves.
It is about us. — Greg Burnham
Special Alert Announcement: This is our new short film documentary of our recent trip to Iraq. There are things revealed in this exclusive video, including the truth of ISIS' evil; making little girls five years old eligible for rape; first- hand accounts. This video must be viewed and shared by thousands to help. If you are impacted, the main way to help is to share this video with your government officials who represent you, TV News Stations, Radio stations, newspapers, Blogs, church groups, civic groups. The other way is to go to our website and make a donation or even become a monthly Mission Partner under "High Risk Missionary Ops."
Thanks for caring,
Victor Marx
a
wordpress plugin link
with a blog is all you require to earn income on the web.